You can check out this episode here with The Bread Week B1tches:
Here's the link to this series on Netflix.
EPISODE ONE: CAKES
SIGNATURE CHALLENGE: Upside Down Cake
(Simple sponge, topped with a fruit of choice. 2 hours)
Cathryn: Apple, Hazelnut and Calvados Cake
Ryan: Kumquat Polenta Cake (not using regular sponge, first into the oven and first out)
Manisha: Vanilla, Peach and Raspberry (using golden syrup instead of a caramel with her "topping")
Victoria: Pear & Pecan (toasted own pecans, made own pear rings. Added Stem ginger)
Stuart: Tomato with Ginger Sponge (forgot to add his tomato jam)
James: Parsnip, Comice Pears and Pecans (VERY LAST to take his out)
Sarah Jane: Pear, Chocolate and Hazelnut
___________(below bakers not shown during baking segment)_________
Danny: Plum, Ginger and Orange
Peter: Pear, Muscat and Chocolate
Natasha: Pineapple and Passion Fruit
Brendan: Plum, Sour Cherry and Walnut
John: SQUARE CAKE, Toffee Apple, Orange and Cranberry
JUDGING:
Ryan: Mary says too solid, Paul says too dry.
Cathryn: Mary likes the nuts. Paul loved everything. Said it was a beautiful cake.
Danny: Paul says overbaked, Mary says "at least no soggy bottoms".
Sarah Jane: Paul says overbaked. Mary loves the taste of the pears.
Peter: Paul can't taste the pear, Mary can't taste the wine.
Victoria: Both love the look of the cake, the pears held flavor.
Manisha: Paul likes the pattern, Mary likes that it isn't too sweet.
Natasha: Both like the pattern. Mary says passion fruit isn't as intense when it's been heated.
Brendan: Paul says it's delicious, Mary says it's very inviting
John: Paul struggles to find something to complain about, Mary says it tastes very good
Stuart: Paul says it could look better, that he cannot taste the tomato, that it's just a dense ginger cake. Mary says it's very close-textured.
James: James says it's probably underbaked, and Paul says it's fine. Mary cannot taste the parsnip very much.
TECHNICAL CHALLENGE: Rum Babas
(Paul's recipe, 4 of them in 3 hours)
Yeasted cake filled with chantilly cream, topped with fruit. It's a batter/soft dough and tricky to make.
Batter is weird and sticky because of the beaten egg, and trying to knead it is like wrestling that slime everyone likes. It's delicate and a mess.
Dough has to prove to double the size, they have to butter and sugar the baba tins. Batter is then piped into the tins and proved again
Brendan put a damp towel over his second prove and it stuck to the batter
Natasha does bain marie for her bake, ended up too soft.
Sarah Jane turned down the oven because hers started to burn
The batter is so sticky – John put salt instead of sugar in the tin
JUDGING:
Sarah Jane: good color, looks good. Tastes "not too bad"
Brendan: problems with dough, not blended properly.
Danny: overproofed
Peter: Paul didn't appreciate the extra sugar cage. Nice flavor, good texture.
Cathryn: like the soak. A little overproven.
Manisha: overprooved (Paul said it had a big fat bottom)
Victoria: structure is dense, but it tastes okay
John: cut all the tops off of his. Mary says it's a little dry because the soak only goes halfway down. Paul nearly bowls over from the salt
Ryan: had issues getting it out of the tin, Paul calls it "not bad"
Stuart: way overbaked, dense crust that Paul has issues sawing through.
Natasha: hasn't risen, no ferment, texture is off.
James: Paul likes it, says "not too bad"
RANKINGS:
12. Natasha – "been boiled to death"
11. John
10. Brendan – "what happened??"
9. Stuart
8. Ryan
7. Danny
6. Manisha
5. Cathryn
4. Victoria
3. Peter
2. James
1. Sarah Jane
SHOWSTOPPER ROUND: Hidden Design Cake
(5 hours, must reveal a design when cut)
Going into the round, Sarah Jane and Victoria are killing it, Ryan and Stuart in trouble.
Most bakers using a basic Victoria Sponge.

Per Wikipedia, the Victoria sponge cake was named after Queen Victoria, who ate a slice of sponge cake with her afternoon tea. It is usually called simply sponge cake. A traditional Victoria sponge cake has raspberry jam and whipped double cream or vanilla cream.
Sponge cake is a light cake made with eggs, flour and sugar, sometimes leavened with baking powder. Sponge cakes, leavened with beaten eggs, originated during the Renaissance, possibly in Spain.
The Victoria sponge recipe has you mix the egg white mixture separately from the yolk mixture and then fold them, while the Genoise sponge has you beat the eggs whole.
Genoise made without fat, and heated while beating the eggs. Victoria tends to be lighter and more crumbly, while Genoise retains its form.

James – "Simmer Dim" sunset cake (not using food coloring, using beetroot)
Natasha – Mother's Day Layered Rose Cake (ombre cake, syrup soak)
Peter – Jubilee Cake (with the iron cross on top)
Stuart – Lemon and Pistachio Union Flag Cake (replacing some flour with ground almonds and pistachios, has a silhouette of the Queen on top, his red cake sunk a LOT while baking)
Ryan – Hidden Flowerbed Mousse Cake (Italian Meringue mousse, surrounding pieces of cut sponge, first sponge was really bubbly? Had to wait for the mousse to set, made everyone really nervous)
Victoria – Four and Twenty Blackbirds (a pie made of cake, inside is a blackbird and the maid's nose)

see bottom of this post for those song lyrics, because that REALLY bugged Libby.

Cathryn – Cupcake cake? (had to hollow out the middle of her cake, color it, flavor it and stick it back inside.)
Sarah Jane – a bunch of little cakes crushed together like a cake pop, with a crown in the middle
John: (using a pastry cutter to carve out hearts in his cake)
Missing Brendan? Danny? Manisha? They never said anything about their cakes OR judging.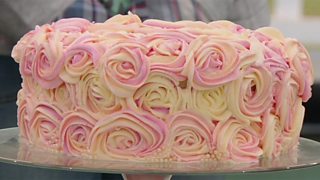 JUDGING:
John: Paul says moist, nice cake. Mary says it's a clever concept.
Sarah Jane: Mary says it's a clever effect, Paul says the cake is vland.
Cathryn: Paul says it's an excellent cupcake, and a good flavor. Mary says "lovely".
Victoria: Paul says for a novelty cake supposed to look like a pie, she's done well. He says he is very impressed.
Peter: Paul and Mary both say it's impressive, Mary says the cake is moist and Paul says "well done".
Stuart: didn't finish the top design, HRH looks a little like she has the measles. Paul says the structure has gone a bit awry, but the flavor is good, Mary assures him they take taste into consideration as well as looks.
Ryan: Paul points out the mottled color spray issue. The flowers look amazing, Mary says it looks very well done and Paul agrees.
James: Paul basically calls James a size queen for his "monster of a cake" and Mary says it's "very bold". Mary says his Genoese is very heavy, Paul says the weight of the cake condensed everything,
Natasha: Mary says it's so pretty, Paul says it's heavy and underbaked, that' she's "concertinaed" (or "accordioned") it up by putting the heavy pan on top. Mary says it's been over-soaked. Paul says the texture is "out there" and that it's technically raw.
Going into elimination, Stuart and Natasha are singled out for being in trouble. Will it be curtains for Ketchup Cake or Boiled Baba?
EPISODE RESULTS:
Star Baker: Victoria
Eliminated: Natasha
In case you were wondering, here are the lyrics to Four and Twenty Blackbirds:
Sing a song of sixpence,
A pocket full of rye.
Four and twentyblackbirds,
Baked in a pie.

When the pie was opened
The birds began to sing;
Wasn't that a dainty dish,
To set before the king.

The king was in his counting house,
Counting out his money;
The queen was in the parlour,
Eating bread and honey.

The maid was in the garden,
Hanging out the clothes,
When down came a blackbird
And pecked off her nose.
They sent for the king's doctor,
who sewed it on again;
He sewed it on so neatly,
the seam was never seen.